Take a look back at the 2022 'Behind The Scenes' event we held! Check back soon for more information on the 2023 event!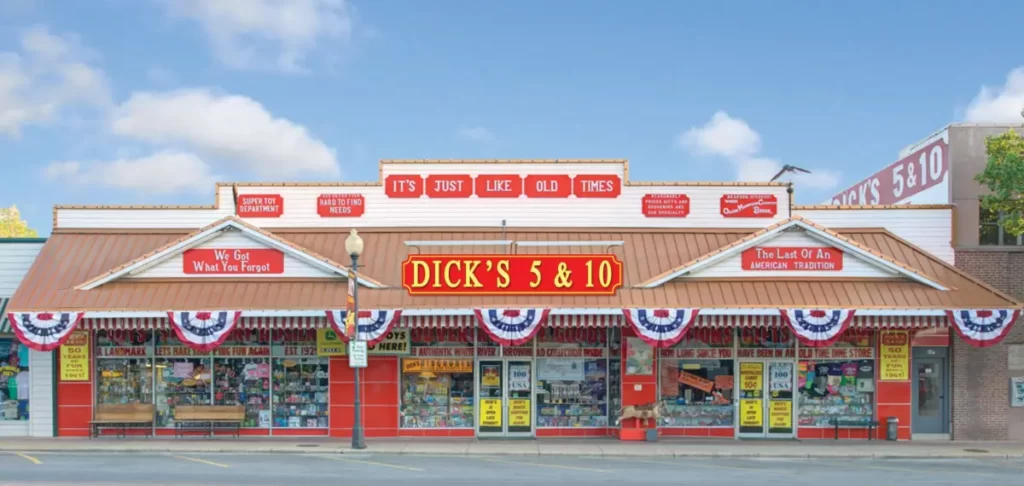 Lunch & Learn with Dick's 5 & 10
This add-on, ticketed, event will be held on Thursday December 1st at 12:30pm at the expo location (Hilton Branson Convention Center). It is exclusive to registered COE attendees only. Tickets are $30 per person. Your ticket includes access to our keynote speaker (Dick's 5 &10 owner, Steve Hartley) at the hotel, lunch, a tour of Dick's 5 & 10 warehouse, and a $10 voucher to spend at Dick's 5 & 10 gift shop.
---
What You'll Learn:
This "lunch-and-learn" session will feature the owner of Dick's 5 & 10, Steve Hartley speaking about how his family got into this retail/tourism business, how they choose items to sell in their store, how they decide the best ways to display merchandise and how they continually redesign the store, keeping it appealing for locals and tourists to come back time after time! Many campgrounds have camp stores, and big or small, this a great opportunity for you to learn how this family-owned store, that began as only 1,500 square feet of retail space, grew to 10,000 square feet over 60 years later!
---
About Dick's 5 & 10:
For more than half a century, Dick's 5 and 10 has been a cornerstone of Downtown Branson and shopping in Southwest Missouri. With unique gifts you won't find anywhere else, one-of-a-kind collections spanning generations, toys from yesteryear, items for the home, games, hobby supplies, sewing, an aisle of the quirky and fun and so much more, Dick's 5 and 10 is must-visit during your Branson vacation or day-trip.
In 1961, Dick's 5 & 10 opened in beautiful downtown Branson, Missouri. Although the store was small, having only 1,500 square feet of retail space, founder Dick Hartley had a vision of owning and managing a well-stocked variety store, where customers could find the items that meet their needs.
Some in the retail community didn't believe a Branson five and dime could be successful as recounted in a local newspaper article some years later. As the sole employee for several years, Dick did it all, even constructing many of his own counters for displaying merchandise. He refused to be outworked by the competition. When one of his retail competitors faltered in the early 1970's, Dick was able to acquire their location on Main Street where the 10,000 square feet store exists today. It was also about that time that Dick began adding collections to his store in an effort to further differentiate Dick's 5 & 10 from the Branson retail competition. Dick was always looking for an opportunity to learn something new that he could apply in his business.
On December 9, 2006, Dick closed the store at 9:00 p.m. one last time and peacefully passed away later that evening at the age of 80. Dick's 5 & 10 remains family-owned and operated with June still active in the business along with her son Steve Hartley, who rejoined the family business in 1993, and son-in-law Dave Montgomery, who joined the business in 2008.